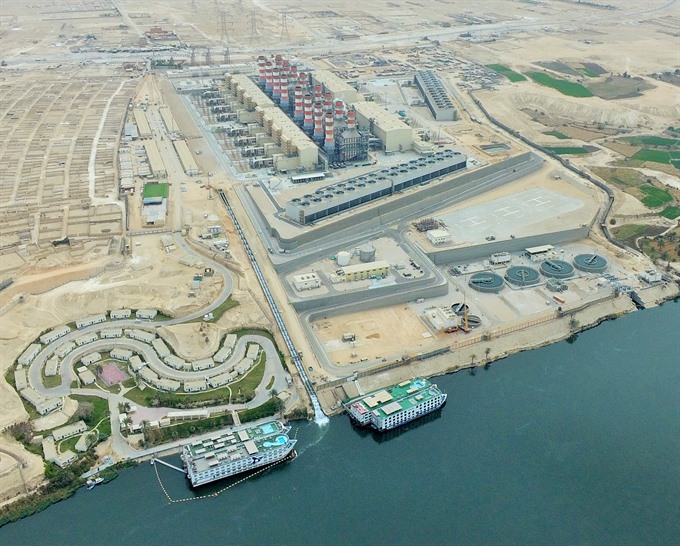 Beni Suef gas-fired combined cycle power plant in Egypt. — Photo Siemens
Viet Nam News
CAIRO, Egypt — "I am very proud to be a Vietnamese engineer working on Siemens' biggest project ever," said Nguyễn Chí Hiếu, one of three Vietnamese commissioning engineers trained to work at Beni Suef power plant in Egypt, where he tests the plant's systems.
The project Hiếu referred to is the US$9 billion deal reached by Siemens and the Egyptian government to build three gas-fired combined cycle power plants in three different regions in the country.
The project was expected to lift the country's capacity of power generation by 45 per cent compared to its installed base in 2015 by adding 14.4GW of power generation capacity to Egypt's national grid, which would help address the electricity shortage in the country.
Egyptian people had experienced frequent and lengthy power cuts and blackouts since 2010, said Emad Ghaly, CEO of Siemens Egypt.
At the peak of electricity crisis, the power shortage was estimated to reach 5GW, causing many factories to halt operations, seriously affecting the country's economy.
Ageing 20 to 30-year old power plants were mostly to blame, as they were performing inefficiently and consuming more fuel than necessary.
Meanwhile, demand for electricity was estimated to rise by 40 per cent by 2030 due to Egypt's 2.8 per cent annual population growth. With the ambitious target of powering further urban as well as rural areas, the Egyptian government needed a stable, sufficient and affordable energy supply.
Mega-project
Under the project, three gas-fired combined cycle power plants were constructed in Beni Suef (to serve the demand in Upper Egypt region), New Capital (to provide electricity to the new administrative centre east of Cairo and the strategic area at New Suez Canal Development Zone) and Burullus (for the Nile Delta and the Mediterranean coast).
With capacity of 4.8GW, each of the plants is considered the largest of its kind ever built and operated. Each is equipped with eight SGT5-800 H-class gas turbines, four steam turbines, 12 generators, eight heat recovery steam generators, 12 transformers and a 500kV gas-insulated switchgear.
Despite many challenges and a tight schedule, the plants were completed as promised.
The completion of the mega-project was announced on July 24 this year, after just 27.5 months of construction.
The haste of the project was especially impressive considering a single 1,200MW combined cycle power plant block typically takes 30 months to construct while in Egypt, Siemens and local partners Orascom Construction and Elsewedy Electric built 12 of these blocks in parallel and connected them to the grid.
"The completion of the power plants is a significant milestone in the government's strategy to modernise energy infrastructure in Egypt to drive industrial growth and economic progress," said Mohamed Shaker, the Egyptian Minister of Electricity and Renewable Energy.
"This is also why the plants were built in select locations across the country to serve the growing demand for electricity among households, businesses and industries. This new power infrastructure will serve as the backbone for economic prosperity in Egypt for years to come."
Sherif Kotb, Siemens' Deputy Project Director & Head of Project Office, said due to geography, building the plants required tremendous efforts. For example, the Beni Suef site needed the excavation and the removal of 1.75 million cu.m of rocks, equivalent to the volume of the smaller Giza Pyramid, he said.
Due to the sloping terrain on the banks of the Nile, levelling and backfilling the entire site took three months.
The total volume of concrete used was 845,700cu.m, 85 times the volume of the Sphinx, while the total weight of steel structure was 11 times the weight of the Eiffel Tower, Kotb said.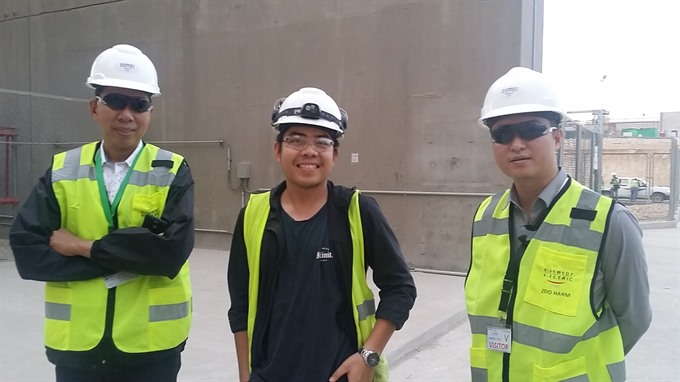 Vietnamese commissioning engineer Nguyễn Chí Hiếu (middle) at the Beni Suef site. — VNS Photo Ngọc Bích
Positive impact
Karim Amin, Global Head of Sales, Power and Gas Division, Siemens AG, said the project helped Egypt save $1.3 billion in annual fuel consumption by replacing less efficient power plants. Besides, a 1.5-per-cent efficiency improvement reduces a power plant's annual CO2 emissions by approximately 320,000 tonnes.
In addition, thousands of new jobs were created.
"Despite being far from home, working in such a large project is still a great experience of mine," Hiếu said.
Hiếu added that what he had learnt was not only knowledge but also a professional working manner and negotiating skills. "This is the best place to practise my English speaking skill as I have to communicate with colleagues from all around the world," he said.
Preparing human resource for future
To help Egypt prepare human resources for the future, Siemens also worked with the German Ministry of Economic Cooperation and Development to create three synchronised vocational education and training platforms: a three-year Zein El Abedeen Technical Secondary School, a two-year Higher Technical Institute and a one-year vocational training centre — the Egyptian-German Technical Academy — in the Ain Sokhna in the Suez Canal Industrial Development Area.
The three facilities were expected to train 5,500 technicians and engineers over the next four years, said Ahmed El Saadany, Learning Manager at Siemens Egypt.
Of the three schools, the Zein El Aberdeen Technical Secondary School, located in the area of Sayeda Zainab Cairo, opened in September this year. It has a capacity to train 600 students yearly.
The school's curriculum was based on the German dual education system, which combines theoretical, practical and on-the-job training in fields such as industrial mechanics, electrical engineering and automation, El Saadany said.
A 15-year-old student who has been admitted to the school said he was happy to be trained at the vocational school because his family had only paid a small amount of tuition fees but he could still access modern learning equipment.
He said he hoped after graduating, he could find a stable job and earn more money for his family. — VNS
Nguồn: vietnamnews.vn