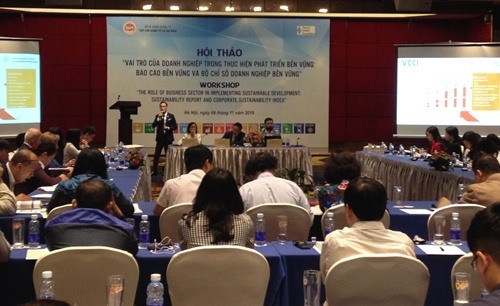 Few local enterprises consider corporate sustainability a key factor in their development, according to experts.– Photo thoibaotaichinhvietnam.vn
HÀ NỘI – Few local enterprises consider corporate sustainability a key factor in their development, according to experts.
They made the claim at a workshop on sustainability reports and corporate sustainability held in Hà Nội yesterday by the Ministry of Planning and Investment's Economy and Forecast Review.
At the workshop, Phạm Quang Vinh, deputy general secretary of Việt Nam Chamber of Commerce and Industry (VCCI) said according to a survey conducted by an agency under the UN, 80 per cent of surveyed enterprises in Việt Nam know 17 goals of Việt Nam's sustainable development goals (SDGs) so they have put the goals at their business and competitive strategies. Meanwhile, 63 per cent of the enterprises have implemented programmes of sustainable development, such as responding to climate change.
Vinh also said in previous years, enterprises participating in the survey on sustainable development were mainly foreign-invested enterprises while now, there are more local enterprises joining this survey.
Since 2015, Việt Nam has had a corporate sustainability index (CSI), with 131 indicators to assess economic, social and environmental aspects. The indicators have become an important tool for enterprises to set up corporate governance strategies.
There are now indicators for seafood processing enterprises and by the end of this year, there will be more for footwear and leather bags. Indicators for other sectors are still being established, Vinh said.
Lê Xuân Đình, Editor-in-Chief of the Economy and Forecast Review, said sustainability reports under the CSI are a tool for enterprises to publish sustainability information like financial statements.
The use of corporate sustainability indicators and sustainability report are essential and effective tools to help businesses re-evaluate their overall strategy in the short-, medium- and long-terms, he said, and then they could take new opportunities from sustainable development.
However, Đình said, many businesses are not fully aware of sustainable development and some of them neglect sustainable development reports.
The Government has issued a national action plan to implement the 2030 Agenda for Sustainable Development, he said. According to the agenda, all parties related with the agenda have responsibilities in implementing the SDGs from the centrally-run to local authorities, including the National Assembly, the Government, ministries, agencies, social organisations, business community and the people.
To reach SDGs, Việt Nam has also set up tasks to be implemented in 2017-20. They include completing a system of institutions on sustainable development and improve the effectiveness of State management on sustainable development.
Vinh said to achieve sustainable growth, Việt Nam will implement the national action plan to promote sustainable economic growth together with implementing social justice and protection of the ecological environment, to effectively manage and use natural resources and respond to climate change. — VNS
Nguồn: vietnamnews.vn