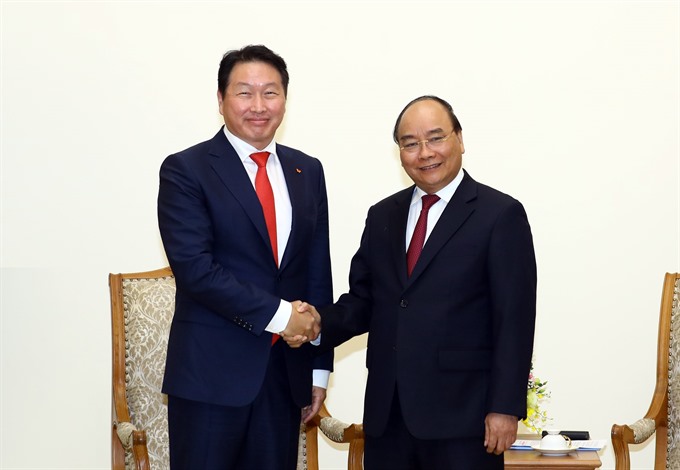 Prime Minister Nguyễn Xuân Phúc receives Chairman of the SK Group Chey Tae-won in Hà Nội on Thursday. — VNA/VNS Photo Thống Nhất
Viet Nam News
HÀ NỘI — Prime Minister Nguyễn Xuân Phúc has proposed the SK Group from the Republic of Korea continues supporting Việt Nam's economic and e-Government development orientations, particularly in the context of the industrial revolution 4.0.
He praised SK's strengths in energy, information technology and telecommunications while receiving the group's Chairman Chey Tae-won on Thursday, who is on a visit to Việt Nam to seek investment and business opportunities.
PM Phúc applauded the group's support to build a national renovation centre in Việt Nam, an important part in the country's industrial revolution 4.0 strategy which is being developed by the Ministry of Planning and Investment.
Việt Nam was speeding up the equitisation process of big State-owned corporations that are operating effectively in the fields of telecommunications, chemicals, processing, garments and textiles, beverages and energy, he said.
The Government always encouraged foreign investors with huge financial, technical and market potentials, including SK Group, to join the country's efforts in this process as strategic partners.
The Government leader noted that Việt Nam has around 700,000 enterprises and suggested the SK group invest, support the development of small- and medium-sized enterprises and help connect them to the rest of the world.
He also proposed the group to invest in areas of its strength such as smart city development, oil and renewable energy projects and information technology.
He wished that investors from Korea, including the SK Group, continue to expand business and investment activities in Việt Nam.
Chairman Chey Tae-won informed the PM that his group has invested in a number of new projects in Việt Nam and wished to invest in more private businesses in the country.
SK Group also paid attention to Vietnamese State-owned enterprises that were and will be equitised as well as to environmental protection, he said.
He committed that the SK Group would strive in areas that it invested in, contributing to the economic growth of Việt Nam and the development of relations between the two countries.
He stressed the group wanted to contribute initiatives in developing small- and medium-sized enterprises in Việt Nam to help reach the target of having one million enterprises in the country by 2020. — VNS
Nguồn: vietnamnews.vn